Opinion by Barrington Salmon
If They See Us
By Barrington M. Salmon
'The presumption of innocence is vaporized by the hot glare of racism.'
When it comes to the issue of race, America is in a constant state of cognitive dissonance. The dominant majority, through miseducation, a lack of exposure or willful ignorance always seems to be surprised and thrown for a loop when stories like the Exonerated Five grab headlines.
For a moment or two, as they hear or see cases of Black women, men and children railroaded by a system that pretends to be fair and equal, they are aghast, unsettled, unsure of what to do or say.
Yet for generations, Africans in America – children and adults – have been sacrificed on the altar of greed, domination, cruelty and casual racism.
People of African descent in this country have lived with the reality that the color of their skin has marked them in indisputable ways, such as being guided to the school-to-prison pipeline, the troubling disparity in the arrest and sentencing of Black and white people for the same crimes/offenses; the naked racism and the structural racism in the so-called criminal justice system that ensures that the majority of America's 2.3 million incarcerated individuals are Black and brown.
Yet we are living in a time when a harsh light is being shined on much that's been hidden or obscured. Acclaimed director Ava DuVernay is owed a debt of gratitude for her commitment to exposing the truth about what this country is and has done to Black people. On the heels of 13TH, an award winning documentary which explores the history of racial inequality in the prison system, she produced the heart-rending miniseries that aired on Netflix last month to much acclaim and which detailed what has been called by some "one of the most egregious miscarriages of justice in history."
I applaud her because she has been a drum major for social justice using her platform of film to force this country to confront the Original Sin of slavery and the many "children" this odious institution has spawned.
We must never forget that the five males whose youth was snatched away were CHILDREN: Antron McCray was 15; Kevin Richardson, 14; Yusef Salaam, 15; Raymond Santana, Jr. 14; and Kharey (Corey) Wise was the oldest at 16.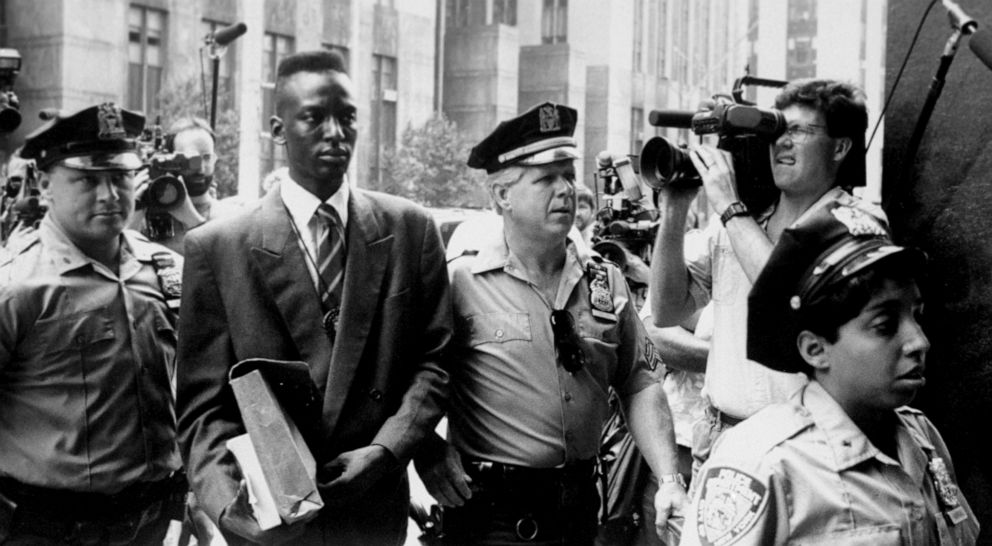 The detectives rounded up and held the boys and interrogated them for between 14 to 30 hours – without a lawyer or their parents present – telling them that if they confessed, they could go home; played them off against each other; and beat and brutalized some of the young men.
A New York Times story explained what the now grown men have talked about very openly: "Locking up those boys for a gang rape that had not happened but that most of society believed in was the same as planting a bomb in their lives that never stopped exploding. That story is told without blinking in "When They See Us," and will enlighten even people who have followed these events."
The five were convicted and jailed despite there being forced confessions, no physical or forensic evidence connecting them to the crime, no DNA evidence, no evidence placing the boys at the scene, but there was evidence that placed the real rapist, Mattias Reyes at the scene that investigators ignored while they pursued convictions for the five.
The conversations among and between Black mothers and fathers, with their children, with friends and relatives that has come after the Netflix miniseries were searing, heart-breaking, agonizing, excruciating. Many of us couldn't watch the whole thing because those boys were us, they were our children.
I Googled several magazines and got a variety of perspectives that captured the maelstrom in which the boys were thrown. Ken Burns: "I think that the "Five" became the Central Park Five because they were the most vulnerable to the system. None of them had ever been in trouble with the law and their families had never been in trouble with the law, so … when seasoned detectives brought them in for questioning, they were exposed to the techniques that these detectives use so effectively."
And in an interview with NPR, DuVernay said about the prosecution: "The city never apologized; they settled. No one on the side of the prosecution ever apologized. They've stuck by the fact that even though the real man came out and said: I did it, I did it alone. Even though all of that physical evidence was from him, was matched to the victim, and it was in fact him, and only him, these people still refuse to acknowledge that they—not made a mistake—lied. Lied."
Prosecutors like Linda Fairstein and the New York City Police Department have completed an internal review of its management of the Central Park Jogger case. NYPD brass found no wrongdoing on the part of its officers, and despite overwhelming new evidence and vacated convictions, they maintained that the young men were likely guilty.
None of those involved, the city, prosecutors, detectives and other cops, have ever expressed remorse or accepted responsibility or apologized for destroying the young men's childhoods. In fact, former DA Linda Fairstein has doubled down, saying the Five were somehow involved and did something wrong.
As we confront, understand and unpack this story, we should know that what happened is not an aberration. Putting Black and brown people behind bars is big business. Although the United States represents one-fifth of the world's population, 2.3 million people are incarcerated in America, the highest in the world. Estimates are that about 60 percent of that population is Black or Latino. Former Attorney General Jeff Sessions, at the behest of President Donald Trump, relaunched the failed "War on Drugs" and gave states attorneys and law enforcement the green light to crack down on criminal suspects even for non-violent crimes.
Prison labor is the new slavery. The Prison-Industrial Complex is a brutal, oppressive system which relies heavily on prison labor to work and produce goods and services for major businesses and corporations including iconic brands like Whole Foods, Starbucks, Compaq, McDonalds, WalMart, Microsoft, Victoria's Secret, Macy's, Target and AT&T. Some incarcerated individuals work for free, others for as little as $00.04 an hour and others make $00.23 an hour making military equipment like nighttime goggles, bullet proof vests, tents, shirts and bags, as well and a range of products for other corporation. As the Ella Baker Center for Human Rights notes, there are no unions, safety regulations, pension, social security, sick leave or overtime in these sweat shops.
The sprawling Prison-Industrial Complex is a more than $2 billion enterprise and 37 states have legalized the contracting of prison labor by private corporations who brings their operations inside prison walls.
"The thing is that these people, the corporations who make up the Prison-Industrial Complex, have been getting away with murder for a long time," Courtney Stewart told this reporter an interview last year. "They've been able to sustain the Prison Industrial Complex and they have ruined generations and generations of the Black community. It's been so devastating, and we still haven't recovered.
"Using the school-to-prison pipeline and the 'War on Drugs,' these people are criminalizing and have imprisoned Black men, women and children," said Stewart, chairman of The National Reentry Network for Returning Citizens in DC and founder and CEO of Mentoring Works2. Inc. "It's profit over people and power and money in this capitalist, White-privileged society we live in. They don't see any value in the Black family or Black people. They always throw pennies when it comes to fixing the African American community. We have to address this with force and radicalism. There has to be a radical revolution in how to address this."
Courtney is right.
The question is, what are we prepared to do?
(Photos courtesy of BET and ABC News)