BY BARRINGTON M. SALMON -CONTRIBUTING WRITER- | Originally published in The Final Call on May 23, 2018 – 11:09:01 AM

The explosion of digital technology in the U.S. and around the world is commonly described as the Fourth Industrial Revolution.  But civil rights advocates like Marc Morial, the Rev. Jesse Jackson and Black legislators in the Congressional Black Caucus (CBC) are again raising fears that in the midst of this tech boom, Silicon Valley's stubborn resistance to diversity is barring Black Americans from enjoying the jobs, salaries and other benefits that tech jobs offer.
In the National Urban League's State of Black America 2018, Mr. Morial, the organization's president along with authors of the report spotlighted the paucity of Blacks among the ranks of the tech industry with a spotlight on Silicon Valley. Silicon Valley is the home of one of the world's largest tech economies.
The digital divide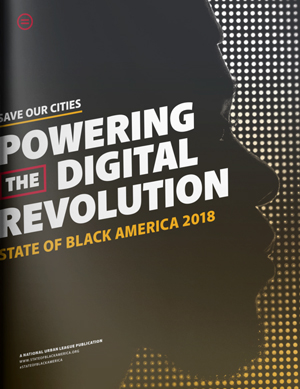 While Blacks and Hispanics are avid consumers of digital technology, Mr. Morial said, they are grossly underrepresented in the digital workforce. According to statistics provided by the Kapor Center for Social Impact, in the U.S., the technology workforce is currently 90 percent White or Asian and 75 percent male.
A further breakdown reveals that nationwide, the industry is 74 percent male, 69 percent White and 21 percent Asian. In Silicon Valley, Blacks and Hispanics make up between three and six percent of workers, while women of color comprise one percent or less of the workforce. Officials at the center note that these groups are represented across other industries at much higher rates consistent with their proportion of the overall U.S. population, which is more than 50 percent female, 13 percent Black and almost 18 percent Latino, according to the U.S. Census Bureau's 2016 estimates.
"African Americans have proven to be eager, early adopters of technology, leading influencers and content creators in social media—as evidenced by the power of 'Black Twitter,'" Mr. Morial said in the executive summary of the report. "Yet, nearly one-third of low-income families with school-aged children have no access to broadband at home. Lacking this vital tool, many students are left with few realistic options to access the internet, leaving them digitally undeveloped and vulnerable to low earning outcomes."
Following a May 10 press conference to roll out the CBC's Job and Justice Act of 2018 on Capitol Hill, Rep. Robert C. "Bobby" Scott (D-VA) said he had ordered two studies, one from the Equal Employment Opportunity Commission and the Government Accountability Office which illustrate the dismal numbers.
"These reports show the widespread disparity in employment (of African Americans)," he told The Final Call. "If hiring was proportionate to the numbers of qualified applicants, we wouldn't see this problem."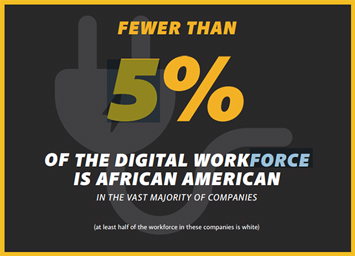 Rep. Scott said he's troubled because the underrepresentation of Blacks extends to non-tech jobs too, in areas such as human resources, business development, sales, customer support and receptionist positions. But lawmakers, he said, do have certain laws to ameliorate the problem, such as the Civil Rights Act and other provisions that prohibit racial discrimination and exclusion based on race.
"There's no excuse for not having a workforce that is reflective of the community," said Rep. Scott, who is serving his 13th term representing Virginia's Third District and is the ranking member on the Committee on Education and workforce.
Despite pressure from people like Rev. Jackson four years ago, which produced ardent promises from tech giants and other firms in Silicon Valley to make a significant dent in the numbers of Blacks and women in their ranks, research continues to show Silicon Valley's race gap is getting worse, not better.
Blacks in technology exist
Washington metropolitan area tech entrepreneur Joycelyn Tate is intimately familiar with the problem. She is managing director at Tate Strategies where she develops advocacy strategies for non-profit and public service organizations as well as co-founder of MakeIT4Change Innovation Hub, an organization that provides creative space and resources for youth and adults to work together to develop technology for social change.
"It's the good ol' boy network which relies on people they know and are familiar with when they're looking to hire," said Ms. Tate, who describes herself as a staunch advocate for laws and policies that advance entrepreneurship and employment for women and minorities in the tech industry. "They go to Stanford, MIT and not to Howard University and other institutions to look for employees." She said there are a number of reasons for the tech industry's acute underrepresentation of Black women within its employment ranks.
"For years, tech industry executives have painted the picture of a lack of talent and supply as the reason for their dearth of Black women employees," said Ms. Tate, senior technology policy advisor for the Black Women's Roundtable at the National Coalition on Black Civic Participation. "They claim that there are not enough Black women getting advanced degrees in science, technology, engineering and mathematics (STEM) as the reason for their dismal record of hiring Black women.  While it is true that, for a variety of reasons, Black women have a lower college graduation rate in the STEM disciplines than other groups, Black women with college degrees in STEM do exist," she continued.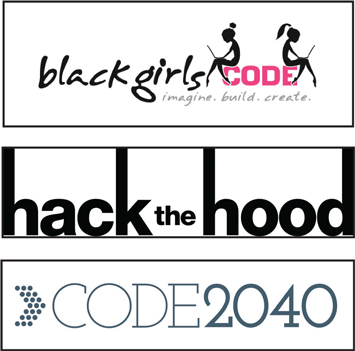 "In 2012, Black women earned a total of 684 STEM degrees. But based on the tech industry's poor track record of hiring Black women, these college graduates are looking at employment options in sectors that have been more welcoming like the oil, gas and automotive industries. Tech companies are not tapping this pool of talent because they are not looking in the right places—assuming that they are looking at all."
DeShuna Spencer, founder and CEO of KweliTV, an online streaming service that airs content catering to Black American, Caribbean, African and Latino audiences, elaborated.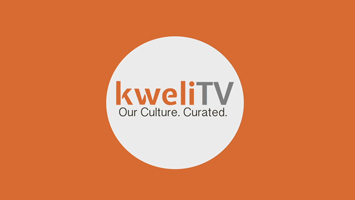 "We're an afterthought. People think that we don't get money because we lack experience. We have to have so much more traction and connections—White companies have so much more advantages," said Ms. Spencer, a budding entrepreneur and graduate of Jackson State University. "Only 0.2 percent of Black women with tech businesses get investor money. And only 20-plus Black women have ever raised $1 million in funding. That's horrific. It's racism and sexism but it's also connections. In Silicon Valley, they say they want diversity but they're looking at the same places— Stanford, MIT, Harvard, Yale, alums of PayPal, AirBNB, then they'll write them a check."
"I went to Jackson State. I've had conversations and people have never heard of an HBCU. I was taken aback. If you have to explain an HBCU, you're in trouble. That's the reality we're living with."
For the past several years, the CBC—through its #CBCTECH2020 initiative—has been goading tech CEOs to prioritize, opening their doors wider to allow in more Black Americans.
Making moves and legislative fixes
Black people haven't been sitting still. Stories abound about the Hidden Genius Project, Black Girls Code, Black Women in Computing, CODE2040, Hack the Hood and Y Combinator, and advocates like Erica Joy Baker and Viola Thompson.
Ms. Tate cited Arlan Hamilton of Backstage Capital and Gayle Jennings O'Bryne as just two of the growing number of Blacks and women who are grabbing ahold of their destinies in the tech world.
Ms. Hamilton is founder and managing partner of what's called a seed-stage investment fund that has invested in 80 companies, all of which have at least one founder who is a woman, person of color, or LGBTQ. Backstage Capital has a diverse portfolio and manages a fund of more than $5 million. According to Quartz, an online global magazine, Ms. Hamilton is launching a $36 million fund "that invests only in Black female founders, $1 million at a time."
Ms. Jennings-O'Byrne is a principal of Maya Ventures Partners and CEO of The Prometheus Exchange, a collective of social change makers. Maya Ventures Partners seeks to build a diversity-based venture capital ecosystem.
Earlier this month, senior members of the body visited Silicon Valley and met with officials from Twitter, Apple, AirBNB and other companies to push them to provide more transparency and accountability and coax them to improve their hiring practices and significantly boost the underrepresentation of African American engineers, non-tech staff and entrepreneurs in the tech industry.
Twitter says 3.4 percent  of its employees were Black in 2017—2.2 percent of them in technical jobs. In 2016, 3 percent of its workforce was Black. Facebook's Black workforce stands at 3 percent and Uber comes in at a paltry 2.6 percent of its corporate staff being Black, up from one percent in 2017.
CBC members also criticized tech leaders for the slow pace of change reflected in the lack of diversity in the workforce, upper management and board of directors.
"The tech industry has created extraordinary wealth and opportunity, but a growing number of communities and Black employees are being left out of the growth," said Congressman G.K. Butterfield (D-NC) in an interview in Black Enterprise. "Our goal for this trip is to bridge the gap by urging companies to use the power they have generated to empower workers and invest in their communities so every employee can thrive."
Rep. Maxine Waters (D-CA) made it clear that they will play hardball if the tech gap continues to be such a problem.  "I'm talking about using the power that our voters have given us to produce legislation," she reportedly said during a Lyft forum. "I'm not urging. I'm not encouraging. I'm about to hit some people across the head with a hammer."
The lawmakers indicate they plan to ensure that tech companies who have government contracts adhere to federal diversity rules; expand the provisions of the Community Reinvestment Act to cover the tech industry and require financial institutions to meet the needs of lower-income communities. That way, these companies can build the talent capacity, support start-ups and assist those with promise seeking to get a foot in the door, as well contribute or underwrite public works projects in underserved communities.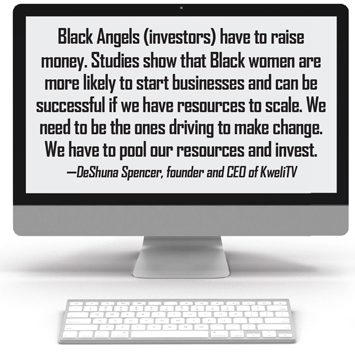 They will also require the EEOC to collect additional tech industry data that includes not just breakouts of the race or ethnicity of employees but also promotions, salaries and investments.
When asked, economist and Howard University Professor William E. Spriggs scoffed at the use of the term "tech gap."
"The first thing is that it's not a gap of skilled people. We should use the terms 'discrimination of Silicon Valley', 'segregation of Silicon Valley' or 'Whites only in Silicon Valley,"' said Dr. Spriggs, chief economist for the AFL-CIO and professor and former chairman of Howard University's  Department of Economics. "I can't tell you how bad it is when we use the term 'gap.' It takes away all urgency. It's not a skills gap. It has nothing to do with today. The reality is that they discriminate badly.
"The DMV (Delaware, Maryland and Virginia metro area) has as many companies as Silicon Valley but the Black technology employment rate is 20 percent here. Why is there only two percent employment in Silicon Valley? It's discrimination. GOOGLE is the  number one search engine and they claim that they can't find people sitting in front of them. We shouldn't allow them in Silicon Valley to get away. There has to be sanctions against Silicon Valley. We have to come up with strategies and leverage through the government or economically. If we tolerate this, it's on us," he said.
KweliTV's  Ms. Spencer said life as a start-up and trying to raise money is a daily grind with an assortment of challenges such as rejection and being underestimated, but with vision, audacity and perseverance, she's achieving her dream, saying she wouldn't have it any other way. The key to breakthroughs by Black people is to raise and pool their considerable resources.
"I want to give back because I don't want other people to go through what I went through," she said. "Black Angels (investors) have to raise money. Studies show that Black women are more likely to start businesses and can be successful if we have resources to scale. We need to be the ones driving to make change. We have to pool our resources and invest."
Both Ms. Tate and Freada Kapor Klein, a founding partner at the Oakland-based venture company Kapor Capital, social policy researcher and philanthropist, agree that it is in these tech companies' best interest to employ Blacks and other people of color as the numbers of non-Whites in the U.S. grow.
"A lot of venture capitalists recognize the business case for funding Black women," said Ms. Tate. "If major tech industries continue to ignore the expertise, skills and perspectives of African Americans, they do so at their peril. They look on diversity and inclusion as a human resources issue rather than something critical to their future growth."