BY BARRINGTON M. SALMON – CONTRIBUTING WRITER- | LAST UPDATED: MAY 9, 2019 – 10:57:31 AM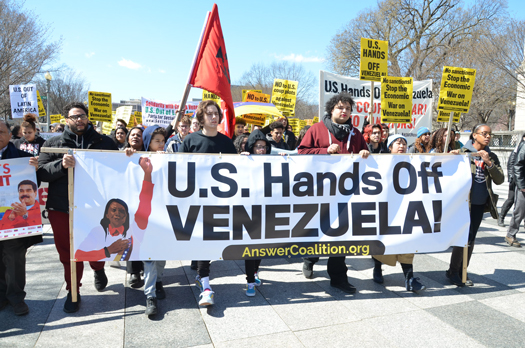 Recently, U.S. social media such as WhatsApp, Twitter suddenly came alive with commentary, pictures, videos and reaction to news that Juan Guaidó was leading a coup in an attempt to topple Venezuelan President Nicolás Maduro.
Mr. Guaidó, president of Venezuela's National Assembly—with backing by the Trump administration and several rightwing Latin America presidents—declared himself interim president in January of this year. He argued then, that according to the constitution's Article 233, President Maduro's presidency was invalidated because of a disputed election last year.
On April 30, Americans and Venezuelans woke up to videos online of Mr. Guaidó surrounded by heavily armed soldiers, claiming that his military supporters had captured an air force base in eastern Caracas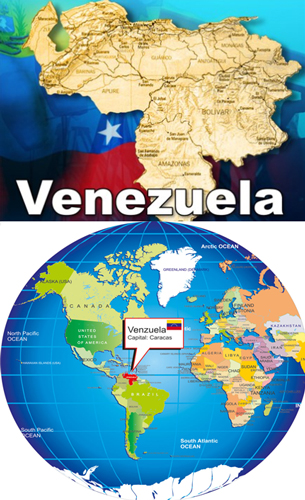 . He called for the military to back what he described as the "final phase" of an effort to oust the Maduro government. There was sporadic fighting between troops allied to Mr. Guaidó and Venezuelan security forces.
If someone followed mainstream U.S. media, he or she would have gotten the impression that Guaidó forces had the upper hand and was within inches of grabbing the presidency. Yet, by the end of the day, little had shifted to change the months-long stalemate between President Maduro and Mr. Guaidó. Forces opposed to President Maduro dissipated or were routed and more than 100,000 Venezuelans flocked to Miraflores Palace to protect the president and the Bolivarian Revolution.Cultural educator and activist James Early, a frequent visitor to Venezuela and a vocal opponent of U.S. intervention, blasted the U.S. attempts to overthrow the Maduro government.
"This is a dangerous escalation of a violent sector of the opposition in cooperation with the most violent sector of the Trump administration," he said during an April 30 discussion about Venezuela on WPFW 89.3 FM. "For Eliot Abrams and Mike Pompeo, this was a gamble. They tricked a number of soldiers and are willing to put people's lives in danger. The fascist Trump administration is trying to overthrow a government that the majority of Venezuelans voted for."
"They need to call off the dogs of war. Citizens must press the elites in both parties," continued Mr. Early, a member of the Institute of Policy Studies' Board of Trustees.
"This is a threat exercised by a rightwing government and will likely open a civil war and extend wars in Latin America. This is a bloody onslaught of Trump carried out my (Sen.) Marco Rubio. We must stand up to protect the international sovereignty and independence of Venezuela and act as global citizens to aid Venezuela."
According to Democracy Now, the Trump administration, Brazilian President Jair Bolsonaro and other Latin American leaders openly supported the coup attempt. U.S. Secretary of State Mike Pompeo told Fox Business news that military action in Venezuela is possible, "if that's what is required."
Alex Main expressed concern for ordinary Venezuelans and said U.S. aggression could lead to civil war. "I was expecting this," said Mr. Main, director of International Policy at the Center for Economic and Policy Research. "This administration is hell-bent on producing a military coup. They are putting pressure on the military and civilians with economic sanctions. This shows that from Day 1, the military coup strategy is based on a lot of wishful thinking."
"Threats and pressure for the U..S government show that they don't have a plan. This strategy is doomed. They don't have a Plan B. They should initiate dialogue towards a negotiated settlement but they (The U.S.) has been openly hostile to any dialogue. Maduro is open to dialogue and Mexico, Norway, Switzerland and the Vatican have offered to mediate. That's where things stand."
Grayzone journalist Anya Parampil warned during a rally in March in Washington, D.C., that a sustained war is already underway against Venezuela.
"With that gang that has taken over in the White House, anything is possible," Ms. Parampil told the rally crowd at Lafayette Park. "They have filled the administration with John Bolton and Eliot Abrams. They are creating terror in Venezuela. People are terrified, afraid of a U.S. intervention. One woman I talked to down there said we watched the U.S. destroy Iraq and Syria. And now they want to do the same to us. It's psychological warfare. The U.S. is creating a pretext for a military invasion, but it didn't happen. Venezuelans aren't afraid to fight."
"We need to recognize that war of Venezuela is already being waged. I don't believe that we'll see an Iraq-style war. We have entered a new phase of using the media and the weaponizing international capital and finances. It is financial terrorism. All of this is a direct result of U.S. policy."
To illustrate Ms. Parampil's point, earlier this year, the U.S. government seized $7 billion of Venezuelan oils assets from Venezuelan oil company, Petróleos de Venezuela, S.A. (PDVSA), leaving it "at the disposal of the legitimate interim president," Mr. Guaidó. Meanwhile, after pressure from Mr. Pompeo and Mr. Bolton, The Bank of England is refusing to release 14 tons valued at $1.2 billion to the Venezuelan government and according to Jorge Martin of Marxist.com, Mr. Guaidó has lobbied the British government to put these assets at his disposal as well.
Mr. Bolton has sent threatening tweets such as this one: "My advice to bankers, brokers, traders, facilitators, and other businesses: don't deal in gold, oil, or other Venezuelan commodities being stolen from the Venezuelan people by the Maduro mafia. We stand ready to continue to take action."
Ariel Gold is one of several dozen protestors who have occupied the Venezuelan embassy since embassy staff was forced to leave after their visas expired in mid-April.
Ms. Gold, co-national director of Code Pink, has been at the embassy for almost three weeks, as a part of the Embassy Protection Collective. She spoke to Oscar Fernandez of the Latino Media Collective, who moderated the Venezuela discussion on WPFW.
"We're here under the permission of the only government of Venezuela," said Ms. Gold. "We're here because our government is trying to orchestrate yet another coup, must like it did in Libya, Chile and Iraq. We're here to uphold international law and the principles of democracy. Under international law, the Secret Service and police cannot enter the embassy. Six million people voted for Maduro not Guaidó."
"I don't like who is president, but I would be enraged if a European government overthrew Trump and gave us Pelosi. We're prepared to put our bodies on the line, prepared to go to jail. People power will stop the U.S. government from illegally taking over this embassy.
Patricio Zamorano, editor of the publication produced by the Council of Hemispheric Affairs, said the coup was an abject failure.
"Yes, there's no doubt that there was an attempted coup. The military mobilized, and they had tanks and weapons. Guaidó lied and said they were in the military base and then Pompeo lied that Maduro had a plane ready to take him to Cuba. They were blocks away on a highway. He called on the military to overthrow the government. This is the narrative of a coup d'etat. But it didn't happen, it was a failure."
"This was supposed to be a big coup d'etat. They call it the final liberation moment. And nothing happened. I'm afraid that we give Guaidó too much credit. Thousands of Venezuelans went to Miraflores Palace to support Maduro—about 100,000 people. It was impressive. But this doesn't correspond to the U.S. narrative. It's possible that the generals prefer another leader but they won't give their country to the U.S."
Mr. Main said the media gave the impression that most of the military were behind the opposition. "It was extraordinary to see the media actions. It is business as usual for the major media," he said. "They just parroted the White House and extreme neo-cons who are openly talking about U.S. military intervention."
Mr. Zamorano said he drove up to the Venezuelan Embassy in Georgetown and interviewed people who support and oppose the Maduro government. D.C. filmmaker Catherine Murphy said she went to the embassy answering the call from activists who put out the call for opponents of U.S. intervention to defend the embassy.
"It was an ugly scene was going down," said Ms. Murphy, activist, teacher and director of Maestra, a film that chronicles the year that Fidel Castro orchestrated to dramatically increase Cuba's literacy rate in 1961. "It was so crazy out there. The Venezuelan opposition are all white and reek of privilege based on how they act. It was so aggressive and nasty. I wish I had taken some video."
"The Venezuelan opposition were right on the edge of being violent. They were insulting people saying nasty disgusting things, making racist, sexist and homophobic comments. They were yelling at members of the embassy staff saying that they knew where he lived and would come to get him. That's some nasty sh*t. They had bullhorns and emergency sirens and were blasting it forever. It made me think about torture."
Ms. Murphy, who lived in Venezuela for many years and studied in Cuba, said she got to the embassy at about 1.30 p m. on April 2 and ended up reaching back to her home at 1:00 a.m.
"I couldn't leave. I was so concerned. The opposition was so horrible. The sirens and yelling went on for 12 f**** hours. The good news is people are still inside. They're holding it down. The embassy supporters outside held it down too."
She said representatives of almost a dozen organizations added their support to the Embassy Protection Collective. This includes BYP 100, members of the DMV Black Lives Matter Movement, a Peace and Justice organization from Richmond, the ANSWER Coalition and others.
"The people out here are fascists and the elite who can't handle losing their privilege. The middle class had made who started to going to literacy classes, voting, organizing, mobilizing and having a dignified place in society and these people can't get used to that."